Tea Party Member
According to the American people, it's time for Republicans to grow up. Instead of threatening to shut down the government if they don't get their way, we recommend that the Tea Party wing of the GOP take a conflict resolution course and learn how adults handle differences.
The American people are increasingly fed up. From
Taylor Marsh:
THE QUINNIPIAC poll released today couldn't be clearer and neither could the foreshadowing. The Republican right is making an error in judgment on shutting down the government, though Speaker Boehner will likely ruin Senator Ted Cruz's party. At our house that means my husband won't lose work, which matters very much to us, though we're hardly the only ones paying attention to this issue.
Nearly seven in 10 Americans — 69 percent — oppose shutting down the government over funding for Planned Parenthood, according to the results of a new national Quinnipiac University poll released Monday. But as far as cutting off funding to the group, 52 percent said they would oppose doing so, compared with 41 percent who supported such an action. Women opposed such an action by a wide margin — 60 percent to 34 percent — while men responding to the survey supported an end to federal funding 49 percent to 44 percent. [Politico]
Several of my friends and I signed the petition below from DCCC Action; here's your opportunity to sign on and tell the Republicans to grow up: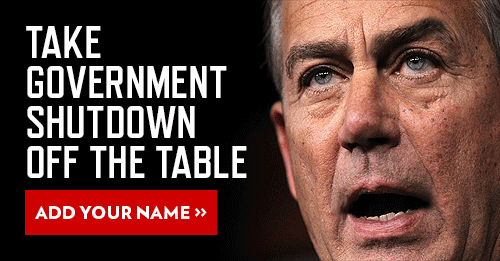 http://action.dccc.org/stop-republican-shutdowns
Thank you for your support!
DCCC Action
Paid for by the Democratic Congressional Campaign Committee | 430 South Capitol Street SE, Washington, DC 20003
(202) 863-1500 | www.dccc.org | Not authorized by any candidate or candidate's committee.